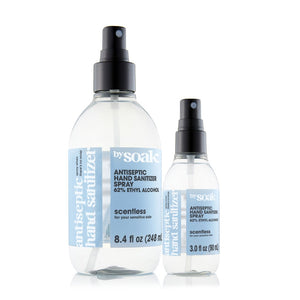 From the company that you trust with your hand-knits, now you can get a hand sanitizer!  Soak hand sanitizer looks better, smells better, and feels better than other products available.  There are cheaper sanitizers on the market, but Soak has never been about cheap.  They care about quality (premium ingredients and components) and sustainability (using recycled plastics).
What it is: Antiseptic skin cleanser. Contains 62% Ethanol. Kills harmful bacteria/germs. For personal hand hygiene to help prevent the spread of bacteria.

How it works: Spray a small amount of sanitizer onto hands. Rub thoroughly into hands for at least 30 seconds. Allow to dry. spray. cleanse. carry on.

Adults and children over 2 years. 1-5 mL, 1-10 time(s) per day. For occasional and personal domestic use. Supervise children when they use this product. Store at room temperature (15-30 Celsius).

• 62% Ethanol
• Contains hydrating Aloe Leaf Juice
• Designed and made in Canada
• Meets Health Canada hand sanitizer standards

Ingredients: Medicinal ingredients: Ethanol (Ethyl Alcohol) 62%. Non-medicinal ingredients: Aqua, Glycerin, Aloe Barbadensis Leaf Juice.