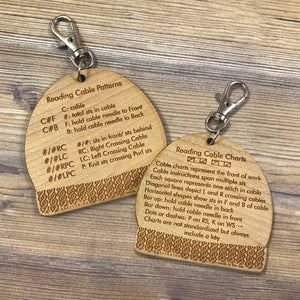 When the air gets frosty and the snow starts to fall, there are few things as warming as a thick and snuggly cable knit sweater, scarf or hat. The December Goodies pay tribute to this queen of winter knits with items featuring decorative cable knit designs. The December Notion is a double-sided keychain fob tool in the shape of a winter hat (cable stitched of course!) that is marked with a helpful guide to reading cable knit charts on one side and one for reading cable patterns on the reverse. The perfect tool for attaching to your cable knitting project bag as a handy reference wherever you go.
Product Details:
Material: Birch

Approximate Size: 3" x 3" x 1/8" 
Because they are made of a natural material, the appearance of each fob may vary slightly.