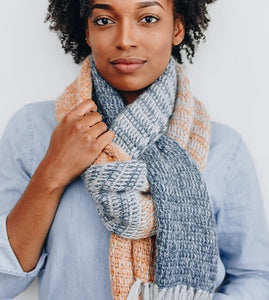 Class will be held in-person at KnitWit. 34 Danforth St. in Portland, Maine.
Techniques Learned to create a Modified Midway Fringe Scarf Project:
Extended tunisian simple stitch
Changing colors (two-toned stripes)
Adding embellishments to Tunisian crochet, including fringe or tassels 
Prerequisites:
This class is for those who already have an established yarn craft. Tunisian crochet is a middle ground between crochet and knitting, and students should have experience in either knitting or crocheting, preferably both. 
-          Basics of reading a pattern
-          Basic abbreviations for crochet/knit patterns.
-          Crochet 101 or Chain, simple crochet stitches, abbreviations, and language.
-          Knitting 101 or Casting on, casting off, knit stitch, purl stitch, abbreviations, and language.
Supplies needed for the course:
Book: Tunisian Crochet Handbook by Toni Lipsy
Yarn: 2 colors of worsted weight yarn 340 yards of each
Hook: USJ/10(6mm), Tunisian Crochet hook with 16 inch cord  (or hook size to obtain gauge)