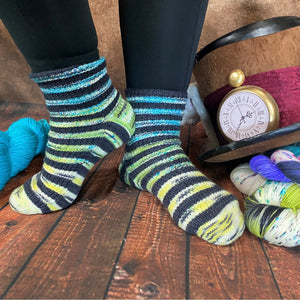 You will be doing a happy dance when you feel how comfortable these ribbed socks feel hugging your feet. Fade contrasting minis into each other against a dark main color and let your needles sing a song of stripes!
Wonderland Yarns "Queen of Hearts" fingering, 80% superwash merino/ 10% cashmere/10% nylon: 105 yds/1 oz mini skein, 5 mini skeins per kit.
Pattern is included inside the label.