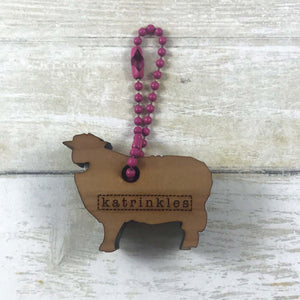 This soft looking sheep has a surprisingly sharp bite! Hidden safely in its mouth is a small blade ideal for trimming off an end of thread or yarn. Just pull your yarn across the blade and the sheep will "chomp" it to the perfect length. Made of cedar, each piece has unique wood grain and coloring, and will keep project bags smelling fresh.

Product Details:
Material: Cedar

Size: 1.25" x 1.5" x .5"

Laser cut from locally sourced, custom milled cedar and hand finished in Katrinkle's studio in Providence, RI

Because they are made of a natural material, the color and appearance of each cutter will vary. Cedar may have knots and other texture; it's part of what makes it so special.